The most advanced music school in Basel
School Of Rock offers a modern teaching concept and a varied selection of private lessons and workshops. We'd like to awaken your joy for music in an easy-going yet professional atmosphere. We give you the opportunity to develop in music lessons adjusted to your personal needs – no matter what level you're on or what your musical interests are.
The best way to learn music is to play it. You can practice what you've learned on stage in one of our exciting workshops. Our team of teachers is made up of young and motivated professional musicians, who all have experience in playing live and teaching.
School Of Rock was founded in the autumn of 2012 by Matthias van Stipriaan. It very quickly became clear that there's a high demand for modern guitar lessons. Subsequently the team of teachers grew and further workshops were added in the spring of 2013. Matthias and his brother Dominik van Stipriaan founded School Of Rock GmbH (limited company) towards the end of 2013.
In 2014 the premises were renovated and since then Marcie Nyffeler and the secretariat care for the requests of our students. After a successful 2015 with dozens of new students we could celebrate the launch of the "Backstage Area". School Of Rock moved to a new location in Münchenstein in January 2017. With the relocation we also expanded our offer to private drum, piano, keyboard and vocal lessons. Since the start of 2017 small and larger rooms can be rented at cheap rates.
Click here for more information about our team of teachers!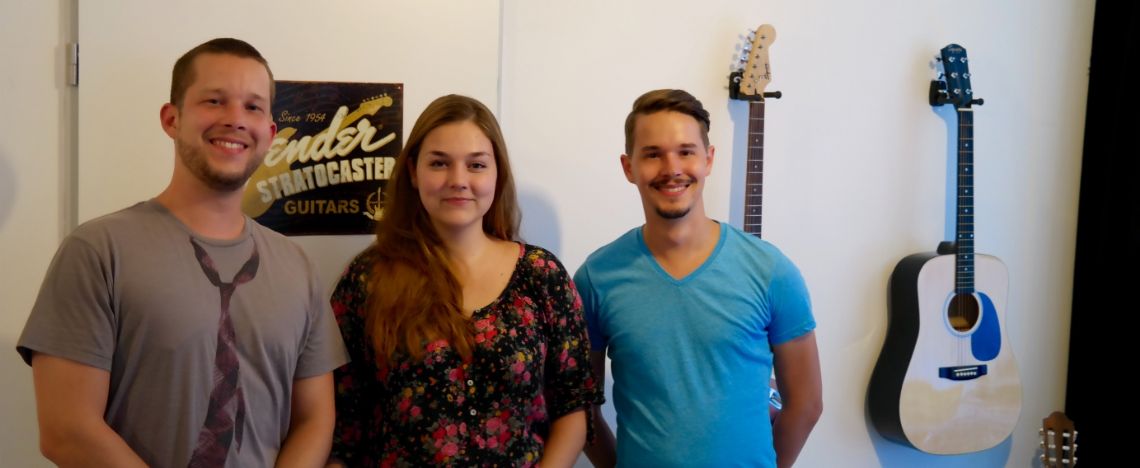 Backstage-Area
Our Backstage Area – this is what modern music lessons look like!
Are you not quite sure what you should practice? Or have you misplaced last weeks music sheets? As a student at School Of Rock that won't happen to you again.
With the Backstage Area you're able to look up what you learnt in your past lessons at any time. As well as that, you can view your lesson material online, download and print it. But that's not all. Here are the advantages of the Backstage Area:


Write messages to your teacher: Write to your teacher without any difficulty. Do you have a question about your last lesson or do you have an idea for your next lesson? Easily get in touch with your teacher by writing a message.
Lesson blog: This is where your teacher summarizes what topics you looked over in your last lessons. Are you unsure about what you should practice? Log in and look it up and at the same time you can see, what you've already learnt.
Teaching material: Your teacher can also post teaching material on your lesson blog like sheet music or songs. You can open them by clicking on a link, see/listen to them in your browser and download them.
Lessons carry on seamlessly: If you happen to have a substitute teacher, they'll always be able to pick up where you left off by checking your lesson blog.
Personal Login: Your profile is only viewable with your username and password and can't be found on search engines.